---
Booth(s) win World Championship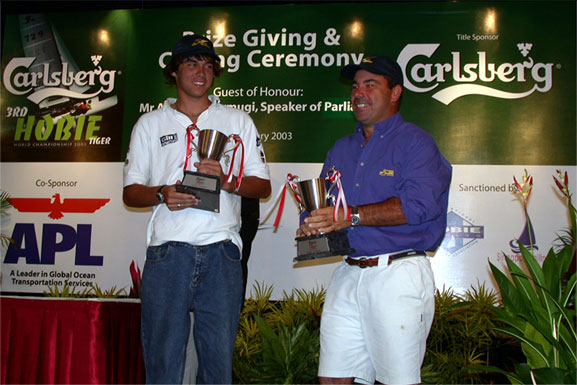 Mitch & Taylor Booth - Calsberg Hobie Tiger World Champions 2003.
---
Click on the


in the following tables to view the results, photos, and reports.
Februay 17th - Added some more pics from Thursday and Friday, including the final night party and the mandatory swim in the hotel's fishpond by Mitch and Taylor.
Februay 18th - In the results table, click on the "Progression" report to see how sailors' overall position changed after each race - useful for writing reports for your local magazine.
Entry
List
Overall
Results
Overall
Results
Progression
Races
1
2
3
4
5
6
7
8
9
10
11
12
13
Photographs
| | | | | | | |
| --- | --- | --- | --- | --- | --- | --- |
| Saturday | Sunday | Monday | Tuesday | Wednesday | Thursday | Friday |
| | | | | | | |
Reports
| | | | | |
| --- | --- | --- | --- | --- |
| Monday | Tuesday | Wednesday | Thursday | Friday |
| | | | | |